In a world where energy conservation is the need of the hour, the Indian Fan Manufacturers Association (IFMA) has geared up and is supporting the BEE and GOI initiative of Mandatory Star Rating programme for Ceiling Fans .
In  the upcoming AGM 2023 of IFMA on 4th Sept 2023 the theme has been aptly kept  "Stars Hain Toh Savings Hain"  to propel the activities to support this initiative .
It would be a sensible guess that 70 to 90 crore power hungry ceiling fans would be at work in our country. Its  time to change . Not because of fans being old but because changing to Star rating fans will reduce energy consumption.  There will be Savings and benefits all around. From a household to the mother planet.
A household can save upto Rs1500 to 1800 per fan on electricity bill in a year with 5 star fan .Thats big. A massive 284 Terawatt-hours out of the total 1411 Terawatt-hours are consumed by fans alone in India.That would be in savings zone
The energy footprint will be  halved, reducing the 284 TWh to a mere 142 TWh. This is not just about saving energy –
Picture a world where electricity consumption slashes by a remarkable 50%, CO2 emissions reduces by an astounding 50 million tons, and coal consumption shrinks by a significant 18 million tons. A sustainable future will no longer be a dream but a tangible goal within reach.
it's about saving our environment too.
The star-rated appliances are already a game-changer in the world of appliances. And now, it's set to create waves in the fan industry too. With resounding support from the Government of India, this campaign is poised to enlighten consumers about the immense benefits of opting for star-rated fans.
The star rating program is making its mark, having become mandatory for ceiling fans from January 1st, 2023. IFMA's unwavering support is evident in this roundbreaking initiative, ready to bring about a technological revolution in motor advancements.
But what's a movement without a charismatic voice? Enter Mr. Energy Saver, the friendly face of energy efficiency, unveiled at our recent AGM. Mr. Energy Saver isn't just a mascot; it's a symbol of empowerment. It's the voice that bridges the gap between knowledge and action.
The time for change is now with every breeze carrying not just comfort, but whispers of change & sustainability too.
The "Stars Hain Toh Savings Hain" campaign isn't just a movement; it's a beacon of hope. It's an acknowledgment of our responsibility to the environment and our commitment to a sustainable tomorrow.
Join us on this exhilarating journey of transformation, where every star-rated fan becomes a catalyst for change. The stage is set, and the stars are aligned. Let's embark on this journey of change together.
Get ready to witness the stars – and savings – shine at AGM 2023!
IFMA is wholeheartedly supporting the mandatory BEE Star Rating programme for Ceiling fans. This comes into force from the new year day of 2023.For the consumers and users of fans. This is great news as it would spell huge savings on the electricity bills of every household. This also means a range of benefits for nation and environment.
IFMA has got an interesting mascot named Mr. Energy Saver which will lead all the communication platforms to aggressively promote the Star Rating Programme.
Mr. Energy Saver is a robust, smiling, confident, assured looking mascot who will instill confidence in the minds and hearts of viewers about the proposition of Savings. The animation has been brought out after deep research by IFMA and Wackytoon Studios, who have given birth to him. Wackytoon's creative team is famous for origin of Chotta Bheem, a famous cute Indian cartoon. This mascot will figure in all IFMA communications for Energy Savings for promoting Energy Efficient Ceiling fans. The mascot is a registered design property of IFMA and has to be used by
IFMA and members as per guidelines given. Check for the animation in 3D –It is amazing and the expressions of the mascot are convincing.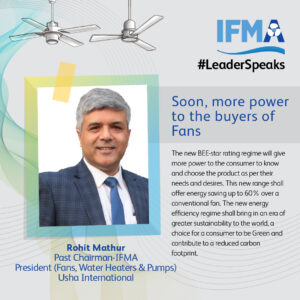 Summers are here already!
After two consecutive bad innings owing to the ongoing pandemic during the last two years, we are in for a good summer season. Fans, as well as other cooling appliances' industry, would heave a sigh of relief from the disruptions of the last two years as we look forward to a good start leading to healthy growth in the year ahead. Though a bit delayed, however, the summer period augurs well to be a good long one for the industry.
The last two years witnessed a latent demand for the fans category owing to the Pandemic that prompted a period of uncertainty affecting adversely on the purchasing power of the consumers, sluggish real estate industry, deferment of home renovations, and a smaller share of wallet for the not so urgent product upgrade in their home. As we transitioned through this black swan event and learned to live with the 'new normal'; the economy and industries are getting back on their feet, and consumers spendings are on the rise. It seems the worst is already over, and the fan industry would have a 'Golden year! Surely looking forward to it.
This would be the 'Golden year' for the fan industry not just in terms of growing demand for fans, but also because we shall see a massive structural shift in the product categories and technologies in ceiling fans owing to the impending changes and roll over into the BEE star rating regime from July 2022. The new BEE norms will be instrumental in developing innovative products armed with BLDC technology and motors. This new range shall offer energy saving up to 60% over a conventional fan.
The new BEE-star rating regime will give more power to the consumer to know and choose the product as per their needs and desires. I am looking at it as an opportunity to enhance the consumers' experience with better technology products, especially now, when the consumer enjoys experimenting and is looking for fans that have top-of-the-line technology, look aesthetically good, and are energy efficient.
The new energy efficiency regime shall bring in an era of greater sustainability to the world, a choice for a consumer to be Green and contribute to a reduced carbon footprint. We are all set to up the game, and I am hopeful that this would prove to be an impetus for consumers to upgrade thus giving a further boost to the industry growth.
In sum, we are in for exciting times and it is on us, the industry people to usher into the opportunity as the sunshine!
While we enter a new normal and resume our routine tasks from our homes, the pandemic has changed our lives in many ways. For one, we have stayed indoors for a year and a half now, resulting in the work from home culture reshaping the employee experience for many organisations. Similarly, children are increasingly attending virtual classrooms from their rooms in homes. This also gave rise to a spike in power consumption in our homes while everyone continued their routine by going digital in almost every aspect!
As most of us spent time in separate rooms to avoid any disturbing noises to each other at home, it has led to a significant increase in monthly electricity bills as well. We had our laptops, mobile phones charged up every day, to make sure there were no technical glitches while working and studying from home. Our Wi-Fi devices, home appliances like fans, and ACs were been used for a comparatively much longer duration. It is important to note that for most Indian households, the ceiling fan is the most common appliance used in our homes. Almost every single day of the year (except in winters) runs 24×7. Thereby, making it important to understand and rethink how our fan can impact the electricity bills of our home.
• Understanding Power Consumption by Fans:
The power consumption of a fan often is influenced by the sweep of the blades, the air delivery rate, and the revolution per minute of the motor, and most ceiling fans today have rated power anywhere between 60 -100 watts.
The rate of electricity per unit differs across India. In Delhi, for instance, the rate per unit for domestic energy supply is Rs. 3/kWh for consumption up to 200 units a month, Rs. 4.50/kWh for 201-400 units a month, Rs. 6.50/kWh for 401-800 units a month, Rs. 7/kWh for consumption between 801-1200 units a month, and Rs. 8/kWh beyond 1200 units of consumption in a month.
An average household of Urban India consumes 200-400 units of electricity per month. In the pandemic, where the work and school from home culture have become the new normal, it is safe to assume that 3 fans operate the whole day for almost a year. So, accordingly, calculate how much the power consumption of our fans impacts our electricity bill.
• How Can We Save Power & Money with Energy Efficient Fans?
As we understand the math behind power consumption fans in Indian households, we need to review our products and make a conscious choice of opting for energy-efficient variants in Fans, especially in recent times where every family member probably runs their personal fans for the whole day. We can always opt for energy-efficient fans that are powered by BLDC motor technology, one of the prime factors for its high full-speed savings. These fans consume only 32W of power vs. traditional fans that consume 75W of power, which in turn helps us save Rs. 1500 per fan adding up to Rs.6000 for an average of 4 fans in an Indian household. Of course, these BLDC fans are more expensive in the purchase price by about Rs 1500 or so upwards and that can be considered too.
While being energy efficient, these fans don't let us compromise on air comfort by offering a speed of 370 RPM and air delivery of 220 CMM. They also come with 98% power factor, i.e. the ratio of usable power to total power, making them highly energy-efficient. These fans can also be remote controlled with a sleep timer, speed control, multi-pairing, and intelligent memory which uses RF / IR technology for added convenience, hence allowing us to operate the fan without having to point at it creating an ease of operation. These energy-efficient fans also come equipped with IoT connectivity, making them easily accessible with voice-enabled assistants like Alexa and Google Assistant thereby, making our life and home convenient and energy-efficient.
• How to Start?
We can always start with basic energy-saving practices like – Turning off the ceiling fan when not in use.
If you are using Air Conditioner then using the Ceiling fan along with it also helps save the electricity bill of the Air Conditioner (Read Blog link- https://indianfanassociation.com/should-we-use-fan-with-air-conditioner/). Of course, don't forget to turn off the fan while leaving the room. However, if we are looking for saving up on energy and monthly bills for the longer run, it is always smart to opt for an energy-efficient fan that helps us regulate and crunch the power consumption significantly.
As we continue working from home and spending more time indoors with our loved ones we need to start making conscious choices in terms of energy consumption by our home appliances to make a difference tomorrow that is beneficial to both, us and the planet at large!
BEE Star rating program gets support from industry Body
BEE's mandatory Star rating program from January 2023 is indeed a great step to support the fan industry to produce only those fans which are energy efficient. Along with the nations interest in saving precious energy and being environmentally friendly, it will bring huge recurring savings to the customers. Such programs introduced in other appliances have brought smiles on the faces of customers for their savings.
Amongst the different ratings the 5 star is ranked as most efficient and currently this is possible only by employing the BLDC motors in them. What is BLDC motor technology –How it is more efficient? For this see another blog dated …..
How much energy can the Nation save by switching to BLDC fans?
Plenty. Unimaginable. Let us put it straight first. It will be around 120 TWh every year. To write simply it is Terawatts or 1.20 Lacs Giga watts. Impressed. Of course the total changeover to the BLDC fans may take few years but progressively the savings will happen culminating to total of this.
Let us mathematically calculate for you.
Total households in India is close to 20 crores (source: 2011 Govt data). With a growth of 20% (Historical average), total households in 2021 should be close to 24 crores. Market Penetration of fans is close to 84%, which means close to 20 crores households have fans installed. Research shows an average of 3 fans in a household, so a total of 60 crores ceiling fans are in use in Indian households.
Then there is a huge segment of Bulk Users like Hospitals, Institutions, Temples, Armed Forces, Offices, commercial and Industry establishments etc . These can be estimated at about 20% of  ceiling fans used in households. This means around 12 crores more fans in use thus bringing to total 72 crore fans.
At least 50% of these fans are real power guzzlers—as they are either decades old or of low cot low energy efficiency.
If all these fans are replaced with a typical BLDC fan, which of course will take few years depending upon various industry /customer factors, the end of the tunnel saving on all these will be about 50W per fan or say by 36 GWh of energy per hour.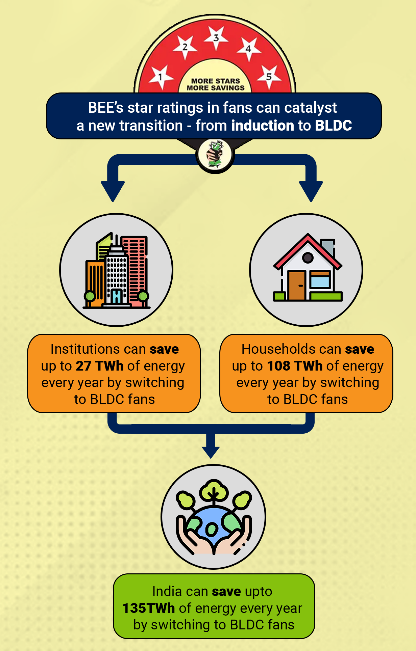 Now, to calculate the amount of energy our country can save by switching to BLDC, we need to make one assumption (which is also known to us from common knowledge). Firstly, in a typical household, a fan runs for at least 12 hours a day for about 10 months or 300 days a year (In South India fan runs almost all year; in East and West India a fan runs for almost 10 months and barring few parts in Northern India, fan runs about 8 months a year). Considering this assumption and doing our maths we can arrive at the total energy saved per year if we switch to BLDC fan. This number would be close to 108 TWh. When we do a similar calculation for institutions, we find that these institutions can save upto 27 TWh of energy per year if they switch to BLDC motor fans. So in total, the institutions and households can together help India conserve up to 135 TWh of energy.
Conclusion
The Government of India and the supporting Industries do understand that adoption of Energy Efficient products is the need of the hour. It will save hundreds of crores of rupees for not needing new generation and distribution initiatives .Precisely the reason why energy efficient LED lights have seen such rapid adoption replacing the age old tube lights.
The next decade would see a massive transformation in the ceiling fan category and will be huge collective contribution of the various fan industries towards the new green India.