For tomorrow's products to become a reality," Engineering Simulations" must become a part of the toolbox for every engineer, every product and throughout the entire life cycle. Simulations have helped to reduce time and costs of product development. In the past, simulation was a very limited resource that was only used in the design of complex industrial products. Now, it has become an integral part of the design process of almost every product. Product simulations are of course used to examine individual attributes — i.e. physical properties, performance, efficiency, stresses, acoustics etc. The most exciting fact  however is  that simulations are not only used for design validation, but also over the entire product  cycle — from the early idea through manufacturing, operations and maintenance.
Take the example of a Ceiling fan and its design parameters. Plus going in depth into how these designs are resulting in the performance being shown through this methodology.
Image 01: Meshing on Ceiling Fan and virtual room in CFD software
Image 02: Velocity Contour plot inside the room (Ceiling Fan)
As per the IS standard, Virtual rooms are created inside Design modeller of simulation software. Ceiling fan is hung from ceiling and rotation is given to the fan. Computational Fluid Dynamics (CFD) analysis procedure followed up as, Particularly, CFD Analysis is performed on the designed ceiling fan to analyse the airflow around the area of interest. Mixing of air from top to bottom of the area so as to neutralize the change in temperature.
The study is interesting, quick and results accurate to reach the following..
Formulate the Flow Problem.
Model the Geometry and Flow Domain.
Establish the Boundary and Initial Conditions.
Generate the Grid. ( Image 01)
Establish the Simulation Strategy.
Establish the Input Parameters and Files.
Perform the Simulation.
Monitor the Simulation for Completion.
The air movement below the fan is captured by simulation software Computational Fluid dynamics (CFD). CFD clearly specify air movement beneath the fan & inside the room, air spread, air velocity, air rotation inside the room, air reach to the floor of room etc. CFD analysis helps to understand performance of Fan / Fan blades for change in parameters such as various angles, Width, shape, Cross section, thickness of blade etc.
This technology breakthrough throws up the advantage of using CFD study and analysis to save time and money on different physical iterations. And have better performing product.
As an artist, I have always been intrigued by traditional art forms. One such thing that not just caught my eye but went on to become my passion is the traditional Indian hand fan, popularly known as 'Pankha'.
It all started around 40 years ago when I first envisioned collecting these beautiful artefacts. And today, when I look back, I wonder what an amazing journey it has been. The journey that started with scouting for hand fans across Indian villages and towns, is now a few thousand fans old and has fans from several parts of the world.
My collection of hand fans is mnemonic of the places that I have travelled to. From rural India that has kept this rare art form alive to various international destinations that boast a strong fan culture, the collection has fans from almost every location that counts. It also consists of fans that I bought from antique dealers who sold me these fans at sky high rates, on the pretext that these rare pieces of art came from palaces and havelis.
I also collected fans when I visited different countries. Africa, Egypt and the Middle East, far eastern countries like China, Korea and Japan, South East Asia, in particular Indonesia – the entire region has a big fan culture in their everyday life as well as in their traditional dances. Fans come in different shapes and sizes, are made of varied organic materials and are used for different purposes. The collection has a variety of fans. There are antique ceiling fans from the Mughal and Colonial period that were pulled by pankhawala from outside the room and used for large congregations in temples, royal courts and aristocratic darbars and offices. There are fans called phadh, large hand fans held by an attendant for groups of affluent men and women. Then there are ceremonial fans and a large variety of personalised fans of many kinds made by women. Many of them are centuries old and are priceless antiques. The collection also grew with gifts from friends from across the globe.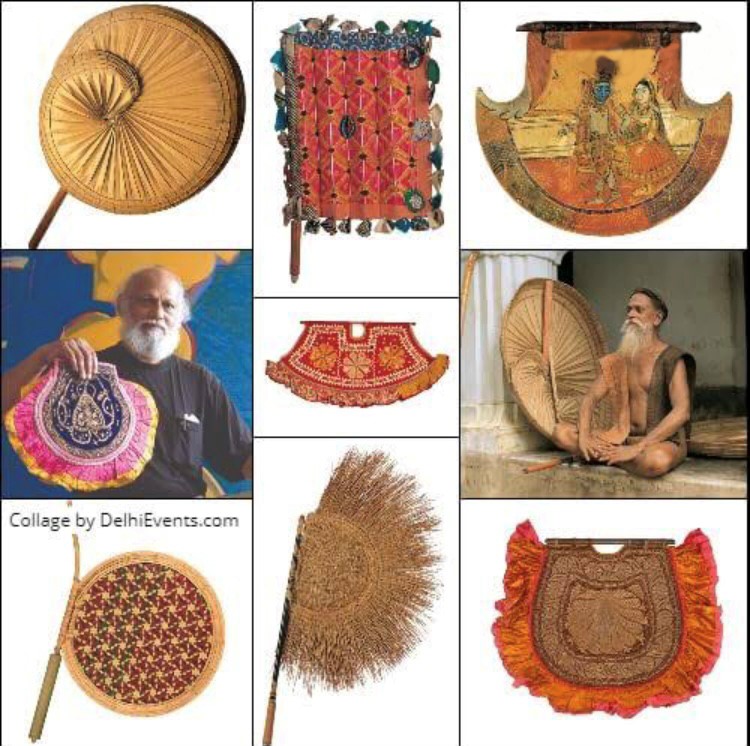 My collection of hand fans is not just my passion; it's an attempt to keep the traditional art form alive. And so, I have been participating in exhibitions and shows to draw attention to this rare and dying craft of India.
The first such exhibition where I came out with my collection of fans was the one held at the National Crafts Museum in New Delhi in May 2004. A month later the exhibition moved to the Grand Victoria Memorial in Kolkata. And it didn't stop there. Since then my collection has been exhibited at several international exhibitions held at places like the Rietberg Museum, Zurich, National Art Gallery, Kuala Lumpur, and the National Museum, Manila, Philippines. In 2011, the collection was exhibited at the 'Maximum India Festival' at The John F. Kennedy Centre in Washington DC.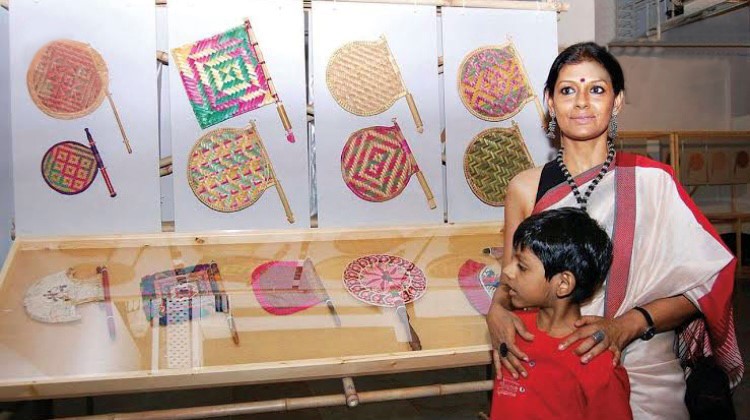 While these exhibitions have played a major role in promoting this rare art form, my concern is that my collection of fans, owing to its fragile nature, may not be able to survive the travel it has to take to different locations. I am, therefore, working on a separate collection of similar fans that can be set aside for traveling to exhibitions, in the future.
The JDCA established in Orissa, 1997, to house the collection of traditional and contemporary arts and antiquities, designed by the eminent architect, B V Doshi. A book on pankha, "To Stir the Still Air," is being published.
'Pankha': Hand fans  www.indianhandfans.org
I have been having discussions with the apex body of Indian Fan Industries to house a PANKHA MUSEUM so that legacy of the Pankhas is kept alive. At one point in early nineties, we were quite close to collaborating with the West Bengal Government through my friend Hardeep Singh and the Fan makers Association of India but Alas. That fell apart at the last minute.
May be the Industry body now finds huge merit in this proposal.
Energy Saving is the new mantra in all electrical products and its importance has hugely become important in past few years on a national as well as international scene. Ceiling fans being widely used in tropical areas like India rank very high in energy guzzling. Brushless DC Motors or BLDC motors as they are called are gaining huge momentum in modern, high-efficiency appliances such as air conditioners, compressors, and water pumps and in domestic appliances. So, Ceiling fans can't be left behind. With the BEE Star rating programme for Ceiling fans becoming mandatory in few months , the focus on replacing traditional Induction Motor with BLDC motors is but given.
The global BLDC motor market is segmented on the basis of type, end-user, and geography. Based on the type, the market is divided between inner rotor and outer rotor. Based on end-user, the market is divided across industrial machinery, motor vehicles, HVAC equipment, aerospace & transportation, household appliances, healthcare, and others.
Presently, over 95% of Ceiling Fans manufactured in India are having Capacitor type Single phase Induction motors. These have wound stators with main and auxiliary windings and have Aluminium Die cast Rotors which are sandwiched between the top and bottom covers on which blades are mounted to rotate and give breeze. Speed Control is done by voltage control in these motors.
BLDC motors for Ceiling Fans are also constructed with Electrical windings on the stator but have  permanent magnets as the rotor. The power requirement of BLDC motors is less as compared with induction motor. Speed control is by controlling the switching frequency of BLDC Motor. Simply stated, the circuit consists of ac supply, rectified to low dc voltage, inverted to variable frequency ac to stator. Stator Windings are also different as main and Aux windings are replaced with three phase or single phase winding as per the motor design.
In Induction Motor ,the Capacitor creates phase difference to give continuous rotation field.  IN BLDC motor ,this responsibility  is of Electronic Controller  with switching between the phases as per program written in the IC Controllers.
Let's understand the construction difference.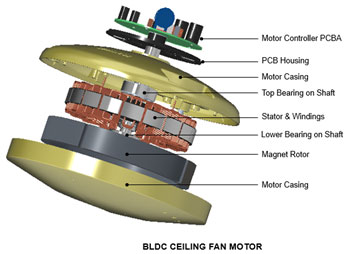 What are its advantages and disadvantages?
Advantages
60% less power consumption due to flux of permanent magnet.
BLDC motors have better performance and efficiency due to the involvement of electronic control enabling high-level control over the speed and position of the magnetic rotor.
BLDC motors can be housed in small compact sizes. So new designs and aesthetics are possible.
BLDC motors produce comparatively low operating noise as compared to induction motors of the same ratings. Induction motors do generate some electrical humming while in normal operation & high load condition.
Electronics make these fans compatible for Remote speed regulating, lot functioning, Wi-Fi enabled control & many more futuristic applications of smart products.
Disadvantages
The cost of a BLDC ceiling fan is presently substantially higher as compared to an Induction ceiling fan and the electronic controller also increases the cost of overall machine.
When a BLDC motor is operated at low speed, slight vibrations occur during low-speed rotation. However, vibrations reduce at high speed.
Due to the inherent natural vibration frequency of BLDC motor, sometimes this natural frequency can match or can come closer to the vibration frequency of the body or plastic parts resulting in the occurrence of resonance phenomenon. However, this resonance can be minimized by adjustment, and it is common to observe the resonance phenomenon in many brushless DC motor-based devices.
In BLDC motors, wiring and operation of the motor are not that simple due to the involvement of electronic control and its link to all the electromagnets.
Robustness of Electronic control system has not yet surpassed the reliability of Induction motor Ceiling fans. Failure occurs due to variations in Input Supply.
The after sales service would have huge teething issues till the technicians all over country get fully familiarised with the nuances of electronics.
The supply chain for Magnets and Electronics is presently a huge challenge—So perhaps the changeover planned should not be rushed.
In conclusion , a great new era with this new technology awaits Indian Fan Industry and the Fan users—Costly fans for sure but huge savings in power bills –for sure.
So let's welcome the changeover.
The bladeless fan is a fairly new concept that's gaining popularity in the West. It's a revolutionary innovation that has taken over the home cooling space by storm. And that is evident from the fact that, every year, an increasing number of homeowners are now switching from conventional fans to bladeless fans.
But despite these fans being so popular in the West, we are yet to go bladeless in India. And that brings us to the question – When is India going to 'Go Bladeless'?
Though we don't have an exact answer to that question, we will put across a few facts related to bladeless fans that will compel you to think if your next ceiling fan should be a bladeless one. Let us begin by finding out how a bladeless fan works.
How Bladeless Fans Work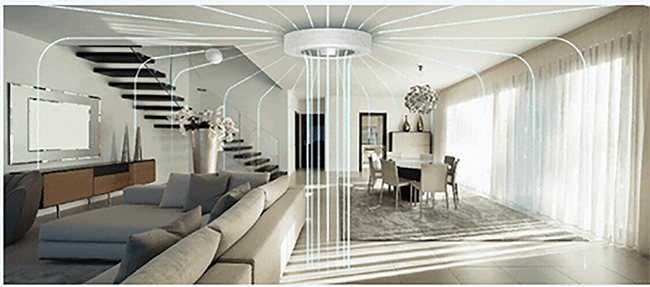 Unlike conventional fans that blow air down, bladeless fans suck air from below and push it outwards, towards the walls, through the slits on the periphery of the fan (as you can see in the above image). This is considered a more efficient way of cooling as it pushes the air to all corners of the room and helps maintain unified temperature. Also, it is claimed that the bladeless fans generate a far more powerful airflow than the conventional fans, as bladeless fans work on the air-multiplying technology that is used in jet engines and turbochargers for generating high airflows.
The question for experts is if this is correct for a tropical country like India , where high quantum of air delivery is required in ceiling fans.
So does it Make Sense to 'Go Bladeless'?
Well, there are more than a few benefits that bladeless fans offer. Let us go through them one by one.
The first and foremost benefit of bladeless fans is that they provide an even airflow. This is very critical in homes with air conditioning because uniform air distribution helps achieve the desired temperature, faster and this in turn helps save on energy bills. It also helps prevent hot air being trapped in the ceiling and cold air trapped on the floor.
Bladeless fans are ideal for rooms with low ceilings. Usually, people opt for wall fans or pedestal fans for rooms with low ceilings as there's always a fear of people getting injured by a traditional fan. But bladeless fans being safer, there's no fear of injury.
The next benefit of going bladeless is that they are noiseless. Unlike conventional fans that produce noise because of the movement of fan blades cutting through the air, bladeless fans don't make any noise, at all. In fact, you would be surprised to know that conventional fans, even in the best of their shape, make some noise.
Maintenance of fans is another important factor when choosing a fan. The good thing about bladeless ceiling fans is that they do not accumulate dirt and dust as easily as the conventional fans. Also, they are easier to clean.
Bladeless fans are available in several styles and designs. They also come with unique features such as integrated dimmable LED lights to balance the room temperature. These features, however, are present in the new age conventional fans also, and so we will leave it for you to decide.
So, What's Your Take?Now that you have some idea about bladeless fans let us know whether or not you would like to see bladeless fans being introduced in India. Let us know your take along with your reasons. We would love to read them.
Electric fans are one of the biggest inventions of mankind and yet they aren't talked about as much as they should be. But since there are a lot of people like you, and like us, who are intrigued by the history and evolution of electric fans, here we have compiled some interesting information that will give you an idea of how electric fans came into being and how they evolved over the years.
The Early Days of Invention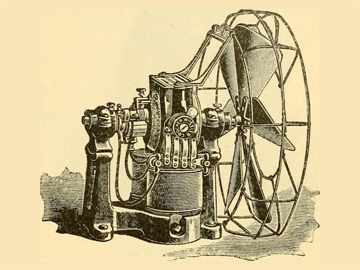 Image Source
https://www.familytreemagazine.com/history/cooling-trends/
The invention of the electric fan is credited to Dr. Schuyler Wheeler who invented the first electric fan in 1882. Later, Philip Delph, introduced the concept of electric ceiling fans in 1882. Philip later got his invention patented in 1887.
Gaining Ground in the West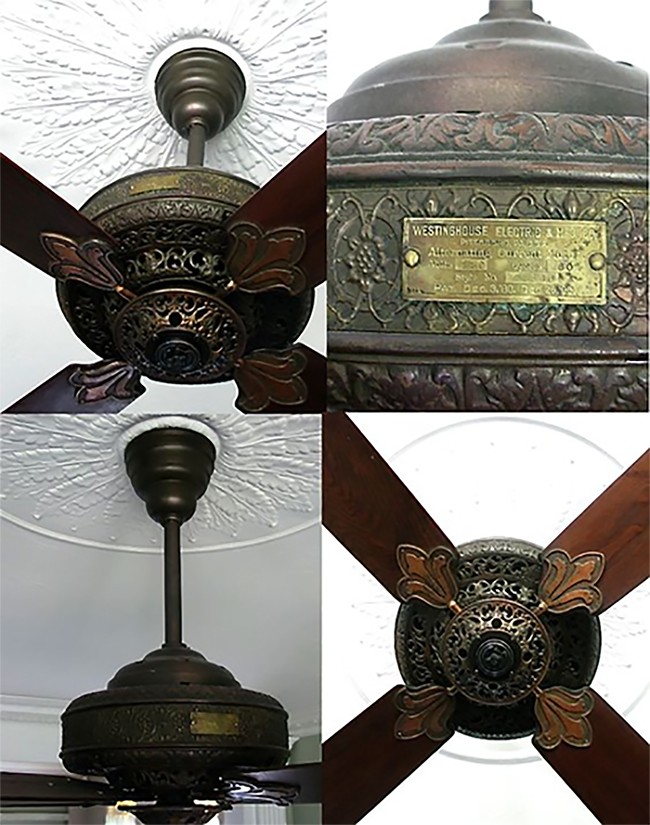 Westinghouse Ceiling Fan CircaImage Source : https://in.pinterest.com/pin/213006257347727901/
Ceiling fans first became available to the masses in the US, in 1910. The electric ceiling fans became a hit among Americans by the 1920s. Some of the prominent names that manufactured and successfully marketed the novel concept among the American masses were Emerson Electric, Hunter Fan Company, Westinghouse Corporation, Century Electric and Robbins & Myers.
Evolving for the Better
Emerson Silver SwanImage Source –
https://in.pinterest.com/pin/572309065148915672/
The year 1932 holds great significance in the fan manufacturing space. It was the year when Emerson Electric, one of the giants of the fan manufacturing industry, introduced Silver Swan whose design was a major hit. Based on a yacht propeller design, the fan used aluminum blades and the best part about this fan was its significantly reduced motor size.
Meanwhile in Other Parts of the WorldBetween 1890 and 1945, while the American manufacturers continued to better the electric fans, their European counterparts, too, were making some great strides. Some of the most prominent European electric manufacturing names included CGE, Crompton Parkinson, Metropolitan, Ercole, Marelli, Kingston and Vickers Siemens.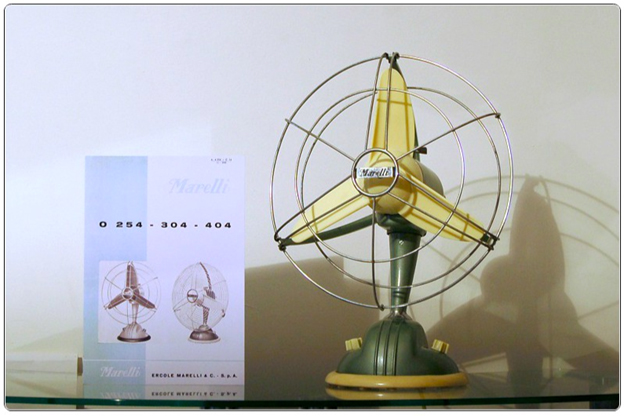 Table Fan ERCOLE MARELLI made in Italy, 1950Image Source –
https://www.specialblu.it/en/fans/355-table-wall-ercole-marelli-mod-o-304-italy-fan.html
In Italy, the electric fan revolution was led by Ercole Mareli. He not just started the production of electric fans in Italy but also made some significant improvements to the big bulky fans that were being produced in America. The fans he produced were much lighter and far more graceful. His fans soon grew popular and by the late 1920s his company was producing and exporting around 100,000 fans, every year, to all parts of the world.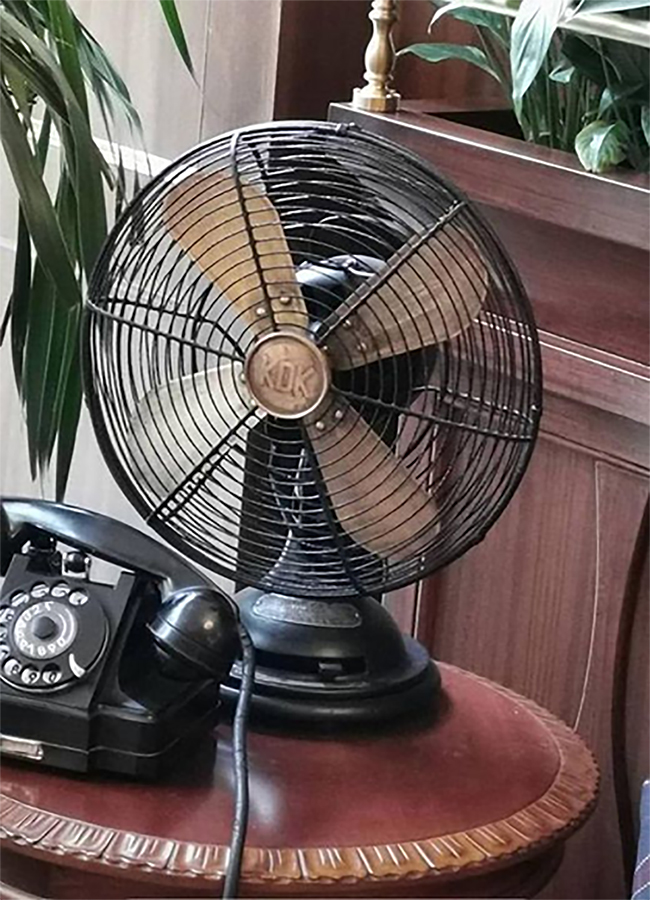 KDK Table FanImage Source –
https://www.facebook.com/kdkleaderinfantechnology/posts/the-kdk-brand-was-founded-in-japan-in-1909-it-is-an-acronym-for-the-japanese-com/2080130358744637/
Kawakita Denki Kigyousha, popularly known as KDK, is a Japanese fan manufacturing brand that was the first to mass produce electric fans 'Typhoon Type' in Japan, in 1913. Later, in 1921, they launched Japan's first ceiling fan.
Enter Indian Fans in a big way in 1930'sIndia was not to be left behind. The history of Indian Fan Industry is fascinating with various large units setting up in Calcutta . It all started in 1930s and by mid 1940s there were quite a few large manufacturers and well established brands. well established .For detailed history read separate blog here.
Indian Fan Industry – How it all began
And the Story Continues …Electric fans have come a long way. From being those big bulky fans made of heavy iron/steel bodies, electric fans have transitioned into the latest sleek stylish fans that are not just lighter and smaller but also far more efficient in terms of performance. In fact, today, you would see a whole new world of fans that includes bladeless fans, large tower fans, designer fans and more.
References
https://www.youtube.com/watch?v=dxBtVKoWHWo https://www.fancollectors.org/fanhistory.htm https://en.wikipedia.org/wiki/Fan_(machine) https://www.aireserv.com/about/blog/2015/august/the-evolution-of-the-fan/ https://marellifan.wordpress.com/2018/10/19/history/ https://kdk.jp/about-us/our-history

The punkah, or the ceiling pankha as you may call it, is an interesting concept of delivering a soft breeze of air using a large swinging fan attached to the ceiling of any room. And though this concept dates back to the 6th century BC, it didn't find much acceptance in India until the end of 18th century; when the British first introduced it in their courtrooms and offices to weather the hot and humid climate of the Indian subcontinent.
As you can see from the image, the pankha was a large swinging cloth suspended from a ceiling and pulled, by a pankhawala, with the help of a rope attached to it. In case of larger spaces, several pankhas were connected together with the help of strings and then swung in unison by a pankhawala who would pull the main rope at one end. During the early 18th century, electricity was not widely available and so there was a big dependence on pankhawalas for running these pankhas. But later, with a relatively abundant availability of electricity, these mechanical pankhas were replaced with power driven pankhas.
But with the beginning of the 20th century, these royal and elegant pankhas were replaced with electric rotational ceiling fans that found a huge demand in barracks and several other large buildings. And today, when the electric ceiling fans have taken over and the pankhas have become a thing of the past,the question that looms large is that have these Swinging Pankhas been consigned to the relics of the past?
Not really. Happily, for the very sophisticated urban space designers the stylised and motorised version of this Pankha is presented by a handful of European companies.They  add to the beauty and grandeur of the space where high ceilings are available.
Get surprised to see these modern motorised Pankhas?
Hotel Maurya in Patna houses such a modern Pankha in its banquet hall. What's more interesting is the fact that this traditional fan concept has been keeping the guests cool for around three decades now. Here's an image for you to see.
Have a look at some more international brands and their range below.