7 reasons why you should prefer LED Ceiling Fans
The evolution of ceiling fans with respect to styles and designs has taken them far beyond an appliance merely meant for improving the ventilation of the living space.
The most worthwhile upgrade has perhaps been the addition of light kits to ceiling fans. Although ceiling fans with decorative lights have been around for quite some time in the West, they have gained popularity in India over the past few years, notably after LED lights entered the market.
From living rooms to dining rooms, bedrooms to lobbies, ceiling fans with lights enhance both the visual and functional value of virtually every room.
For your living space to remain fashion-forward in the years to come, read these 7 compelling reasons to use ceiling fans with lights.
Let's begin.
Optimum Use of Space: A ceiling fan with light eliminates the need for tube lights and light fixtures on the wall. The functional LED lights of 8 to 18 watts are usually mounted on the bottom of the fan, thus leaving you with ample free space to add other striking design elements such as paintings or artifacts to the wall to enhance the overall aesthetics.
Uniform distribution of light: Ceiling fans are installed in the center of a room or a space for equal air distribution. Additionally, it is the most optimum location for dispersing light evenly throughout the room. A wall-mounted light or tube light tends to provide more light when in close proximity to the source. However, it can cast shadows or create dark areas when at a distance. The ceiling fans with lights distribute the ambient light at 360 degrees while giving the same lumens per square foot or more all around.
Facilitates energy efficiency – A ceiling fan with light is equipped with LEDs built into it. Up to 84% of your lighting bills can be lowered by replacing your incandescent bulbs or CFL lamps with LED-lit ceiling fans. The ceiling fan with lights provides an energy-saving lighting alternative while also providing optimum cooling in every corner of the room.
Provides a dramatic effect to the ambiance – Ceiling fans with lights hung on the top of dining tables make the meal look more appealing as they create no shadows from the crockery or people standing in the line of light, as opposed to wall lights. It creates a feeling of a fine dining experience in a restaurant. The dimming feature of many LED ceiling fans is also perfect for the bedroom as it produces an intimate ambiance with remote control in your hand. You can dim the lights in the living room to suit the mood.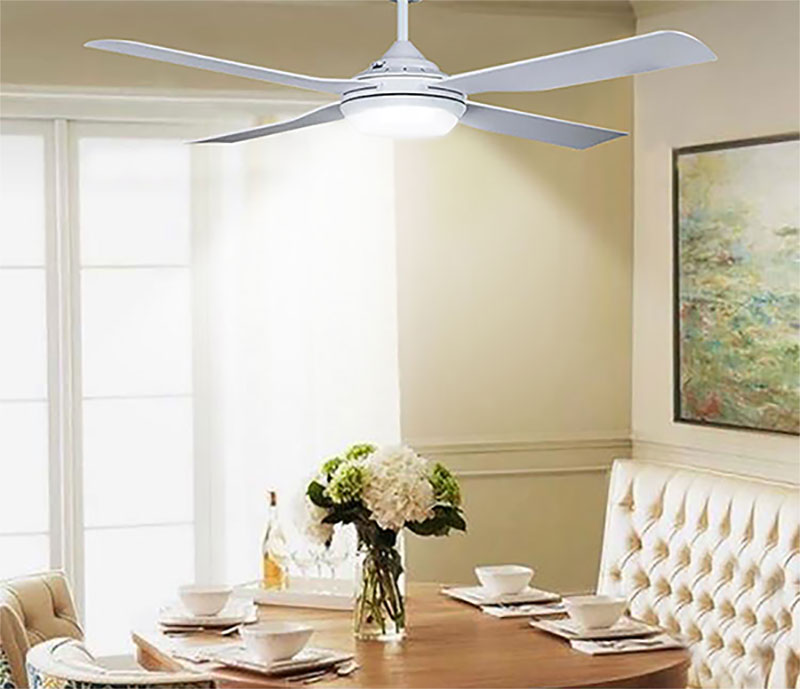 Liberty of Choice – Ceiling fans with lights come in an array of hues. You can choose cool white light for summers or warm white light for winters. You can also adjust the intensity of the light by toggling a few buttons on the remote controller right from the comfort of your couch/bed, which further adds to its convenience.
Decorative appeal:  LED ceiling fans these days come in ethnic, contemporary, and futuristic-inspired designs. The glow created by the ceiling fans with lights gives rise to a sense of wonder as to the origin of the light. By incorporating both the essential functions (light and air) into one stylish package, ceiling fans with lights are capable of delivering a decorative touch that perfectly satisfies the functionality and aesthetics of any room. They can be used to create any mood you desire for any occasion.
Ease of Control – Remote controls have become a must-have feature for any gadget, and we rely on them increasingly. Typically, LED fans to come with remote control handsets, which is an added luxury.
Final words
The ceiling fan you choose for your luxury home, farmhouse, or commercial space will add timeless beauty wherever it is installed. Thus, the best way to accentuate the aesthetics of your architecture is to install ceiling fans that have lights incorporated in them.